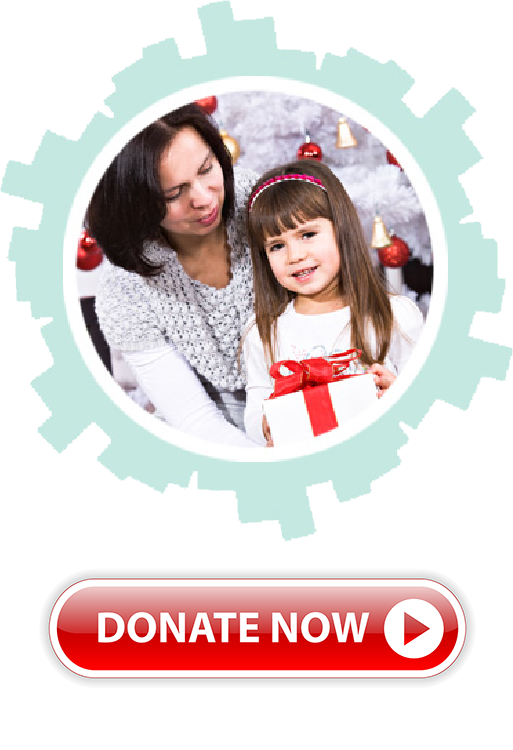 Christmas Bureau
---
Yes, I want to help!
We cannot express enough just how important your support is for this project. None of our programs would be possible without our donors. Thank you for your compassion towards your neighbours in this community.
LAST YEAR, with your help, we brought Christmas to 3,525 people through the Christmas Bureau.
$30 will help us buy a toy for a child from a family with low-income (average cost).
$120 will cover the cost of taking a senior to their medical appointments for 1 month through our Seniors Transportation Program.
$175 will help a child from a low-income family experience a week of Summer camp through our Camping Bureau.
$500 will help support a family of four during Christmas by providing them with essentials.
The best gift you can give to your favourite charity is a recurring monthly donation. To help a charity remain sustainable, and strategize effectively, recurring monthly donations are the most beneficial, no matter the amount. Look through the various ways to give here.
Help fill the shelves of our toy room! Please bring a NEW & unwrapped Toy or Gift. Donations may be dropped off at the Toy Room during the hours specified below. Click here for some gift suggestions.
There are various ways for you to bring the gift to us. Drop it off:

At our Toy Room at Brentwood Town Centre (Mondays - Saturdays from 10AM - 4PM, until December 9, 2019).

At any of the Burnaby Fire Halls (#1-7).

At the Burnaby Firefighters' Pancake Breakfast at the Hilton Vancouver Metrotown Hotel on December 13, 2019

.
Be an Angel to a child this Holiday season! The Angel Project is our annual community-wide toy drive, supported by various different organizations, schools, and businesses. After your application is approved, we will provide Angel cards and posters for you and your team of Angels.
Each Angel card will include a child's age and gender, based on the children that are registered for the Christmas Bureau.
As an Angel, you will buy a gift for a child.
Here's how you can get the toys/gifts to us:
We can schedule a volunteer to pick them up until Dec. 16th.
You can drop them off personally at our Toy Room between Mondays -Saturdays (10am-4pm), by December 19, 2019.
You can drop them off at the annual Angel Breakfast (hosted by the Burnaby Firefighters), on December 13, 2019.
Apply today to host an Angel Toy Drive. Call 604-299-5778 if you have any questions.
*WE ARE IN NEED OF MORE SPONSORS FOR SENIORS
Be a sponsor by providing gifts, necessities & food to local families and/or seniors in need. Invite your group, company or family to join you!
Apply today to become a sponsor.
If you have questions regarding sponsorship, please call MJ at 604-292-3902.